Magnitude of Post Stroke Depression (PSD) and its Association with Socio-Demographic and Disease Related Factors in Stroke Survivors Visiting Tertiary Care Hospitals
A Cross-Sectional Descriptive Study
Ashfaq Ahmad

Khyber medical university

Dildar Muhammad

Sehrish Naz

Sardar Ali
Keywords:
Post Stroke Depression, Stroke Survivors, Stroke, Depression, Functional Disability, Social Support, Dependency
Abstract
Objective: To determine the magnitude of Post Stroke Depression (PSD) and its association with socio-demographic and disease related factors in stroke survivors visiting tertiary care hospitals
Materials and Methods: A cross-sectional descriptive study was conducted in three major tertiary care hospitals from November 2018 to April 2019 on 120 stroke survivors.  A valid and reliable self administered Siddiqui Shah Depression Score (SSDS) scale was used as a study tool. A non probability purposive sampling technique was used. Demographic information, including age, gender, marital status, income status, education, family system was obtained. Disease associated factors, including duration after stroke, co-morbidity, level of dependency were measured. Depression level was evaluated via SSDS translated into Urdu. SPSS ver. 20 was used to analyse the data.
Results: In a sample (n = 120) stroke survivors, Post Stroke Depression (PSD) was found in 70.8%. Of the 120 stroke survivors, 66(55%) were male and 54(45%) were female. The mean age of the respondents was 47.43+11.83 years. Data was analyzed via SPSS 20 and Chi-Square test was applied showing a significant association with age of stroke survivor (p = 0.001) and education status (p = 0.003) while other demographic variables were found non-significant. In disease related factors, duration after stroke was depicted a significant association with PSD (p = 0.033) and level of dependency was found significant to great extent with P-value 0.001.
Conclusion: In conclusion, timely diagnosis, family support, social acceptance, and rehabilitation may help the sufferer may improve the quality of life among stroke survivors.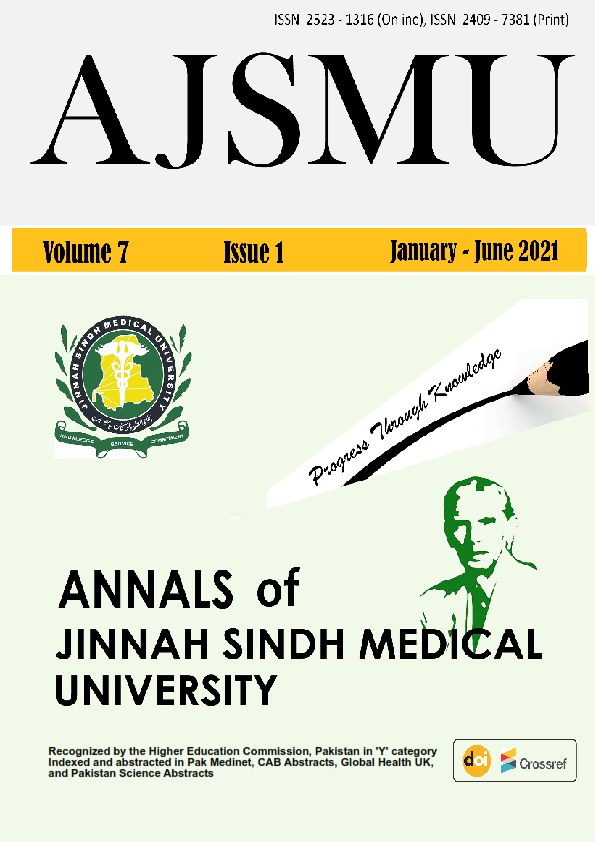 How to Cite
Ahmad, A., Muhammad, D., Naz, S., & Ali, S. (2021). Magnitude of Post Stroke Depression (PSD) and its Association with Socio-Demographic and Disease Related Factors in Stroke Survivors Visiting Tertiary Care Hospitals. Annals of Jinnah Sindh Medical University, 7(1), 8-12. https://doi.org/10.46663/ajsmu.v7i1.8-12
Section
Original Articles