Preparedness of Radiology Departments against COVID-19: An Online Survey
Nida Rafiq

Dow Institute of Radiology, Dow University of Heath Sciences, Karachi.

Binish Rasheed

Dow University of Health Sciences

Amjad Sattar

Associate Professor & Interventional Radiologist, Dow Institute of Radiology, Dow University of Heath Sciences, Karachi.

Ghulam Murtaza,

Consultant General Surgeon, Patel Hospital, Karachi.
Keywords:
guidelines, training, decontamination, public health practice, Personal Protective Equipment, infection control
Abstract
Objectives: To determine the preparedness of the radiologists and their departments against COVID-19 and the impact of institution type, training, and written guidelines
Methodoloy: We conducted this survey by sending an online questionnaire to practicing radiologists in April 2020. The questionnaire included queries about institution (type, training status, written guidelines) and the preparedness against COVID-19. The groups sorted by institution were compared for preparedness i.e. appropriate personal protective equipment (PPE), equipment decontamination protocol, and infection prevention measures (IPM) for public (screening, masks, social distancing, and hand sanitizers).
Results: We received 100 responses out of which 72 were from females. The mean age of the respondents was 37.28.2 years. Government institutes (68) did not differ from private institutes (32) except in screening at the entrance of the institute [7/68 (10.2) vs. 9/32 (28.1), p-value: 0.039], respectively. Comparison of training institutes (32) with non-training institutes (68) revealed higher adherence of radiologists to the appropriate PPE [30/32 (93.7) vs. 44/68 (64), p-value: 0.001] and equipment surface decontamination [22/32 (68.7) vs. 18/68 (26.4), p-value: 0.029]; however, the difference between IPMs for public was not statistically significant. Institutions that provided written guidelines, achieved significant impact on masks (cloth/surgical) and social distancing for public, in addition to appropriate PPE by radiologists and surface decontamination of equipment.
Conclusion: Institutional training combined with written guidelines has significant impact on preparedness of radiologists and radiology departments against COVID-19.
References
Hui DS, Azhar EI, Madani TA, Ntoumi F, Kock R, Dar O, et al. The continuing 2019-nCoV epidemic threat of novel coronaviruses to global health-The latest 2019 novel coronavirus outbreak in Wuhan, China. Int J Infect Dis. 2020;91:264-266. doi:10.1016/j.ijid.2020.01.009.
Government of Pakistan. 2020 [updated 2020 13 may cited 2020 13 May]; Availablefrom: http://covid.gov.pk/stats/pakistan.
Marcel JP, Alfa M, Baquero F, Etienne J, Goossens H, Harbarth S, et al. Healthcare- associated infections: think globally, act locally. Clin Microbiol Infect.2008;14(10):895-907. DOI: 10.1111/j.1469-0691.2008.02074.x
Guan W-j, Ni Z-y, Hu Y, Liang W-h, Ou C-q, He J-x, et al. Clinical characteristics of coronavirus disease 2019 in China. New Engl J Med. 2020;382(18):1708-1720. DOI: 10.1056/NEJMoa2002032
Ding J, Fu H, Liu Y, Gao J, Li Z, Zhao X, et al. Prevention and control measures in radiology department for COVID-19. Eur Radiol. 2020; 30(7):3603-3608. doi:10.1007/s00330-020-06850-5
Politi LS, Balzarini L. The Radiology Department during the COVID-19 pandemic: a challenging, radical change. Eur Radiol. 2020;30(7):3600-3602. doi:10.1007/s00330-020-06871- 0
Devaraj A. Important lessons for infection control in radiology departments during the COVID-19 pandemic. Eur Radiol. 2020;30(7):3599. doi:10.1007/s00330-020-06873-y
Gutzeit A, Li Q, Matoori S, Li B, Wang L. What can European radiologists learn from the outbreak of COVID-19 in China? A discussion with a radiologist from Wuhan. Eur Radiol. 2020;30(7):3609-3611. doi:10.1007/s00330-020-06841-6
Mossa-Basha M, Meltzer CC, Kim DC, Tuite MJ, Kolli KP, Tan BS. Radiology Department Preparedness for COVID-19: Radiology Scientific Expert Review Panel. Radiology. 2020;296(2):E106-E112. doi:10.1148/radiol.2020200988.
Yu J, Ding N, Chen H, Liu XJ, He WJ, Dai WC, et al. Infection Control against COVID-19 in Departments of Radiology. Acad Radiol. 2020;27(5):614-617. doi:10.1016/j.acra.2020.03.025.
Huang Z, Zhao S, Li Z, Chen W, Zhao L, Deng L, et al. The Battle Against Coronavirus Disease 2019 (COVID-19): Emergency Management and Infection Control in a Radiology Department. J Am Coll Radiol. 2020;17(6):710-716. doi:10.1016/j.jacr.2020.03.01.
Personal protective equipment advice for imaging departments and teams. 2020. The Royal College of Radiologist. https://www.rcr.ac.uk/sites/default/files/radiology_ppe_poster_a3.pdf.
Healthcare Infection Prevention and Control FAQs for COVID-19. 2020 Available from: https://www.cdc.gov/coronavirus/2019- ncov/hcp/infection-control-faq.html#asymptomatic.
Xu C, Jin J, Song J, Yang Y, Yao M, Zhang Y, et al. Application of refined management in the prevention and control of coronavirus disease 2019 epidemic in non-isolated areas of a general hospital. Int J Nurs Sci. 2020;7(2):143-147. doi:10.1016/j.ijnss.2020.04.003
Cellina M, Orsi M, Oliva G. How to Reorganize the Radiology Departments to Face the 2019 Coronavirus Disease Outbreak. Disaster Med Public Health Prep. 2020;14(6):789-791.doi:10.1017/dmp.2020.159
Bello AI, Asiedu EN, Adegoke BO, Quartey JN, Appiah-Kubi KO, Owusu-Ansah B. Nosocomial infections: knowledge and source of information among clinical health care students in Ghana. Int J Gen Med. 2011;4:571-574. doi:10.2147/IJGM.S16720
Cheng VC, Wong SC, Chen JH, Yip CC, Chuang VW, Tsang OT, et al. Escalating infection control response to the rapidly evolving epidemiology of the coronavirus disease 2019 (COVID- 19) due to SARS-CoV-2 in Hong Kong. Infect Control Hosp Epidemiol. 2020;41(5):493-498. doi:10.1017/ice.2020.58.
King AD, Ching AS, Chan PL, Cheng AY, Wong PK, Ho SS, et al. Severe acute respiratory syndrome: avoiding the spread of infection in a radiology department. Am J Roentgenol. 2003;181(1):25-27. doi:10.2214/ajr.181.1.1810025.
Yu J, Ding N, Chen H, Liu XJ, Pu ZH, Xu HJ, et al. Loopholes in Current Infection Control and Prevention Practices Against COVID-19 in Radiology Department and Improvement Suggestions. Can Assoc Radiol J. 2021;72(2):215-221. doi:10.1177/0846537120916852.
Ilyas F, Burbridge B, Babyn P. Health Care-Associated Infections and the Radiology Department. J Med Imaging Radiat Sci. 2019;50(4):596-606. doi:10.1016/j.jmir.2019.07.011
Kooraki S, Hosseiny M, Myers L, Gholamrezanezhad A. Coronavirus (COVID-19) outbreak: what the department of radiology should know. J Am Coll Radiol. 2020;17(4):447- 451. Doi: 10.1016/j.jacr.2020.02.008
Sohail S. Rational and practical use of imaging in COVID-19 pneumonia. Pak J Med Sci. 2020;36(COVID19-S4):COVID19-S130-S133. doi.org/10.12669/pjms.36.COVID19- S4.2760
Khan AN, Din NU, Umer US. COVID-19 National Pakistan Guidelines: Radiological Society of Pakistan (RSP) Recommendations Regarding Utilisation of Chest Imaging. J Pak Med Assoc. 2020;70(5):S7-S10. Doi: https://doi.org/10.5455/JPMA.03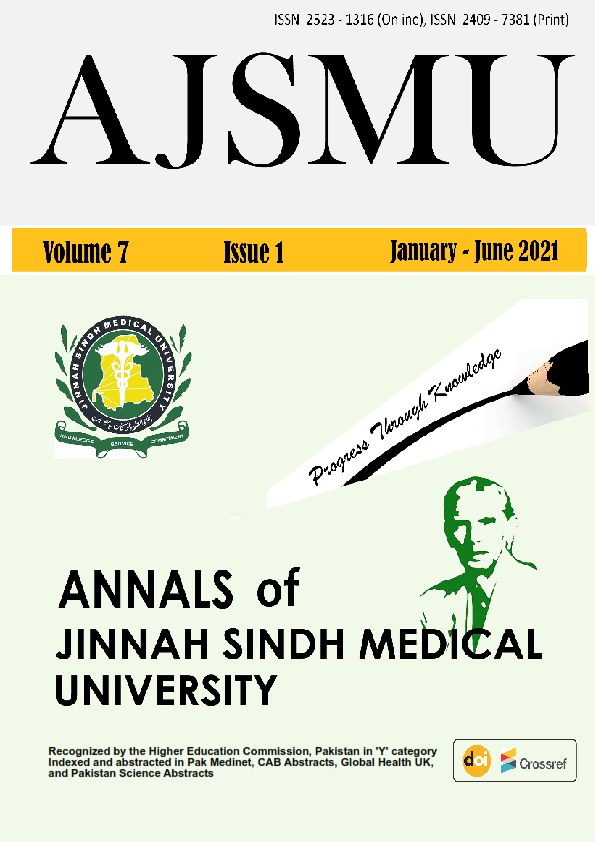 How to Cite
Rafiq, N., Rasheed, B., Sattar, A., & Murtaza, G. (2021). Preparedness of Radiology Departments against COVID-19: An Online Survey. Annals of Jinnah Sindh Medical University, 7(1), 31-37. https://doi.org/10.46663/ajsmu.v7i1.31-37
Section
Original Articles