Remodeling Pattern of Residual Alveolar Ridge in Adult Edentulous Population
Remodeling Pattern of Residual Alveolar Ridge
Naseer ahmed

Altamash institute of dental medicine karachi 75500

Maria Shakoor Abbasi

Assistant professor, Department of Prosthodontics, Altamash Institute of Dental Medicine 75500,

Quratulain Mariam

Department of Prosthodontics, Altamash Institute of Dental Medicine
Keywords:
letter to the editor no key words required
Abstract
The residual alveolar ridge is the basal jawbone and soft tissue covering formed after teeth loss. The alveolar ridge continuously resorbs and go through a series of changes and remodel to different shapes throughout life1. This remodeling of residual alveolar ridge impacts the different phases of prosthodontic treatment2. Therefore, at treatment planning, it is essential to know about quality and quantity of bone as it varies amongst patients and affects denture-bearing area, facial muscle support and height. Furthermore, retention, stability and support of the denture are also dependent on ridge form3. Atwood5 in 1971 classified the mandibular ridge form into six anatomical orders which is in practice and widely used. The classification was based on quantitative analysis of residual alveolar bone4.
Class I - Pre-extraction, Class II - Post-extraction, Class III - High, well rounded, Class IV - Knife edge, Class V – Low well rounded, Class VI – Depressed. The validation of Atwood5's ridge order to date has not been carried out to the best of authors knowledge. Therefore, a need of evaluating ridge form exists as it is yet unknown that the classification incorporated in curriculums is valid or a need of new classification or modification in the existing one is needed. we have clinically evaluated the prevalence of residual ridge form according to Atwood5 Classification and studied its correlation with period of edentulism, previous denture use and age. The ridge morphology was judged clinically, and height of the ridge was recorded further from Orthopantomography (OPG) and lateral Cephalography.
References
Singh OP, Kaur R, Nanda SM, Sethi E. Residual ridge resorption: A major oral disease entity in relation to bone density. Indian Journal of Oral Sciences. 2016 Jan 1;7(1):3.
Kheur M, Matani JD, Latifi M. Prediction of further residual ridge resorption by a simple biochemical and radiographic evaluation: A pilot study. Journal of Orofacial Sciences. 2012 Jan 1;4(1):32.
Sharma, R., Bhochhibhoya, A., Acharya, B., & Rana, S. (2019). Clinical Evaluation of Residual Ridge Morphology of Maxillary Arch in Relation to Ageing and Length of Edentulism. Journal of College of Medical Sciences-Nepal, 15(4), 230-234.
Leyssen W, Butt K, Walmsley AD. Is a Ridge Classification Helpful when Assessing Edentulous Patients?. Dental Update. 2020 Apr 2;47(4):326-32.
Atwood DA. Reduction of residual ridges: a major oral disease entity. J Prosthet Dent 1971; 26: 266−279.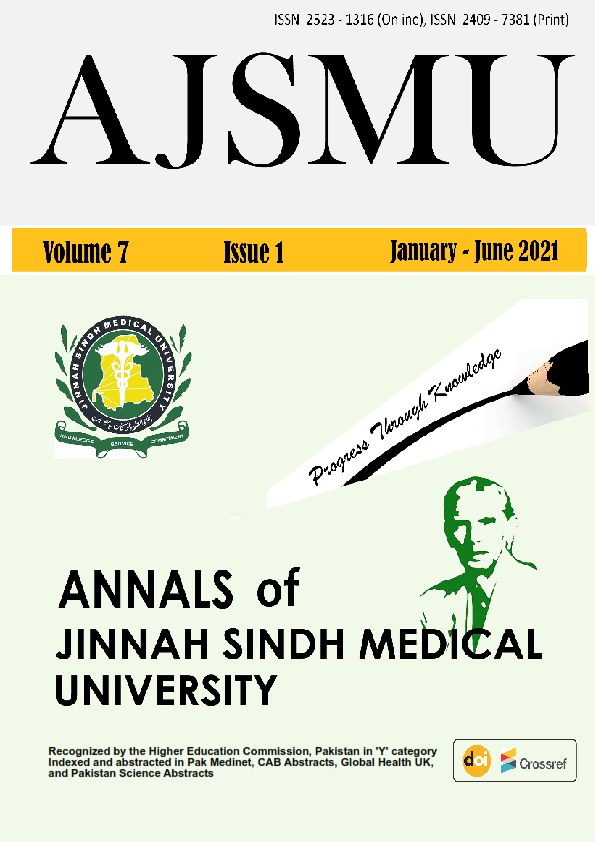 How to Cite
ahmed, N., Abbasi, M., & Mariam, Q. (2021). Remodeling Pattern of Residual Alveolar Ridge in Adult Edentulous Population. Annals of Jinnah Sindh Medical University, 7(1), 47. https://doi.org/10.46663/ajsmu.v7i1.43
Section
Letter to the Editor